This weekend was Polina's birthday celebration, and the first time I've participated in it fully. As some friends might remark, it was done in true Polina fashion, encompassing my first two-night stayover at her house for all the activities. And despite fighting a progressively nasty cold for most of the weekend, the birthday girl managed to keep her spirits up and bring cheer to everyone around her.
Friday afternoon I left work early because I wanted to get my hair done by Edison while Polina and her friends were en route back from Stony Brook University. Edison and Shirley did their usual fine job of making my hair look its best, with a subtly multi-dimensional dark brown that looks natural yet sophisticated. They also asked about Polina, referring to her as "purple" since they didn't remember her name, only the color they dyed her hair. Edison is planning to open his own hair studio in a few weeks, so I hope the next time I visit him it will be his name on the door.
I walked over to Whole Foods on Houston Street (where I'll be on Wednesday for my women's poly group) to buy some truffles to add to my birthday present, and then drove out to Staten Island. Polina's mom opened the door for me just after getting off the phone and telling Polina I hadn't arrived yet. I helped her mom in the kitchen making food by peeling vegetables and practicing my Russian with her until Polina arrived with her dad, middle sister Ella, and three friends from school – Perri, Sammy and Jake. We had Shabbat dinner together then the five of us got settled in the third floor bedroom on three air mattresses.
In the morning all eight of us packed into the family minivan, dropping Ella at Prospect Park in Brooklyn and us in midtown Manhattan near my old office where we had booked a seven-hour block of time at an isolated karaoke bar on 48th Street near 2nd Avenue. We started singing at 1:30 p.m. and the crowd swelled with each passing hour as friends continued to arrive, eventually reaching 15 people.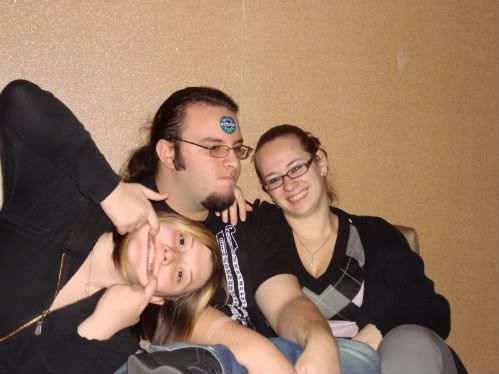 From the SBU band there was Jacob and Beth; Polina's long-time friends Panda, Dakotah (from the Great Adventure Shindig), Anya, and Alina, plus Patrick and his girlfriend Alyssa; and our newer friends Ryan and K-Rob. It was a very diverse group, with a wide variety of musical tastes (and vocal ability) but it was a great time. The band people had fun singing and dancing to their marching pieces, like "(Don't Fear) The Reaper" by Blue Oyster Cult, "Thriller" by Michael Jackson, "Disturbia" by Rhianna and "White Rabbit" by Jefferson Airplane. I stuck to songs I knew by Linkin Park, Red Hot Chili Peppers, Oasis and Taylor Swift.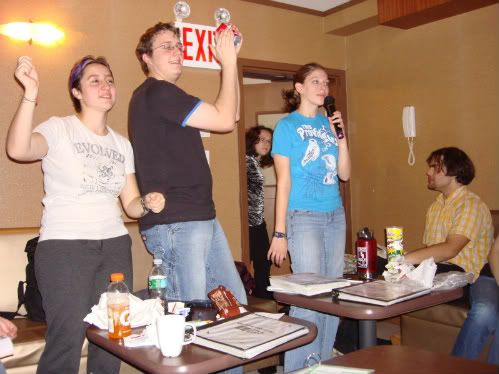 By the time we left, Polina was getting very hoarse and sounding like an 80-year-old woman who smokes two packs a day. The crowd thinned out the way it came together as we walked Sammy and Jake to Penn Station for the trip back to SBU before most of the rest of us went to a Korean restaurant for a late dinner. I had a kim chee stew and spicy hand roll sushi, which was very tasty.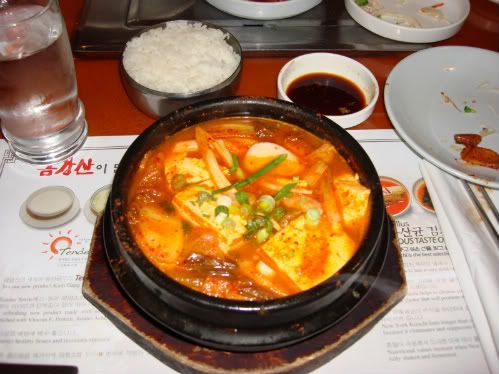 By the end of the night, Jacob, Beth, Anya, Panda and Kotah comprised the second wave of overnight guests, accompanying us back to Staten Island. Beth and Jacob left early in the morning to catch a matinee show of Avenue Q, while the rest of us started the day slowly. Polina's voice was totally gone in the morning, so she was reduced to using handwritten signs like a stroke victim: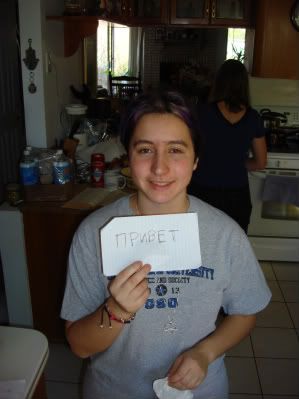 Most of the day Polina's family (eldest sister Sophia and husband Robert and grandparents trickled in) made food and desserts for her birthday party while Panda, Kotah, Anya, Polina and I hung out and did various things. I went out for a bit with Robert and Ella to throw a Frisbee around in Miller Park, and Kotah had to leave early. By about 4 p.m. we were ready to start the party and it was a very long table of food: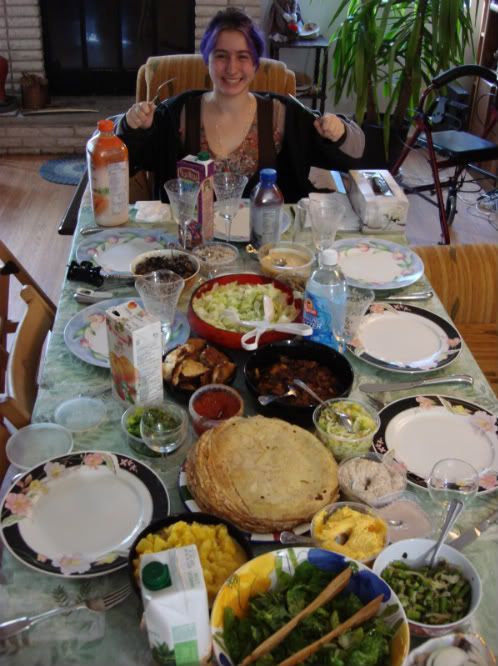 Polina still couldn't speak very loudly, so I acted as her "translator" – she would write down what she wanted to say and I would address it to the appropriate person down the table or announce it to the group. For presents, Polina got a vintage bicycle to take with her back to school, some Origins bath products, a book called "
The Crow-Girl
" and my present of a
"Cognito Ergo Nom" t-shirt
, organic lip balm and her favorite shade of lip stick from my collection at home (since I feel somewhat responsible for the upkeep of her lips), and a box of chocolate truffles. Her grandfather also gave her money, as grandparents typically do. She had also received a bonsai tree from Beth and some other presents from friends the night before.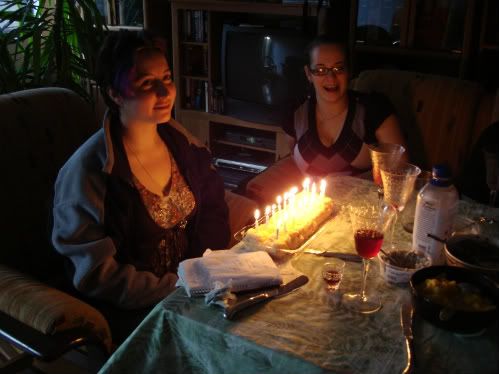 After dinner Polina and I went upstairs and recorded a quick 80-second audio promo talking about the upcoming Open Love NY event next Saturday, which will be used on an upcoming podcast of
Polyamory Weekly
. I did most of the talking since her voice was so ragged but at least she was audible. And by the way, her illness didn't stop us from being affectionate this weekend, so we'll see if my reputed constitution passes the test.
I was going through my emails from last year around this time for her birthday and we had just had our first date (more of a hanging out together kind of thing) at the MIX Festival a week or two prior so we were just getting to know each other. It took upwards of 18 emails back and forth to work out all the logistics and details of meeting up with Laura for my surprise visit to MOMA. Also, I didn't know her well enough to pick out a present, so we went shoe shopping together with Laura and Patrick.
It is with no small amount of wonder that I look back only one year ago at how much my life has changed in respect to my relationship with her. Of course, I should be used to big changes in my life by now, but still, we've come a long way in just one year. To honor that first birthday, I thought it was a nice tradition to have her pick out something for herself for birthdays (the Questionable Content t-shirt) in addition to whatever I feel I can surprise her with, since she enjoys surprises.
Part 3 of the two-weekend birthday celebration starts on Saturday - stay tuned.