I am just back from a short but intense and lovely visit with Polina out at Stony Brook University. I left my office in Princeton (lots of work news in my next post) at 3 p.m. on Friday to have enough time to get to her school by 7 p.m., which is when her marching band practice ended.
I met up with her at the bandspace and renewed some acquaintances from prior visits and met some new faces. We followed a group of about 30 band members to a Stony Brook ice hockey game, where the team was playing the University of Rhode Island Rams. The band gets free tickets to play at the games, so I got to tag along as a FOB (friend of the band). It was actually the first time in my life I've ever been to an ice hockey game, as it is not a very popular sport in the South. But I've watched enough ESPN in my life to know the basics. It was only the second game for Polina.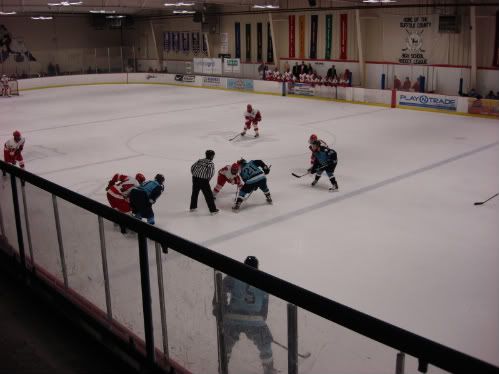 Polina did not bring her cymbals to play because they had a drumset instead, so she was allowed to play the crash cymbal for the national anthem: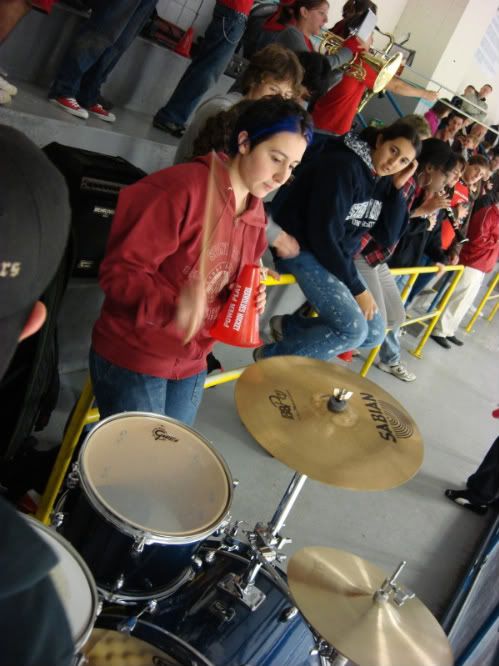 The game was very tight, but the Sea Wolves were overcome by the score of 3-2 when a goal scored by Stony Brook was ruled to have been made a fraction of a second after the final buzzer sounded. I would have liked to see an instant replay on that, but I guess they don't have that luxury in college games.
We returned to the bandspace and then most of us went to a party at the dorm apartment of the guy who played the drumset, Dan. I got to know one of the Sousaphone players, Steve, who shared his bottle of Chianti with me and Polina. He's from southern California, UC-Berkley, where he earned his music degree in harpsichord, and is now pursuing a master's degree in music history. He asked me what brought me to the northeast, and I gave him the two-minute version of my life history, which he found quite interesting. Then we started talking about polyamory and Polina joined us for part of that conversation, and he was supportive, but didn't think it was something he could do himself.
Polina introduced me around and brought me up to date on what's happening with some of her friends. She spent some time dancing with friends and some time cuddling on the couch with me. We left the party about 1:30 a.m. and headed back to Polina's apartment, where her suitemates were surprised to see us. We stayed up to watch an episode of
Castle
before climbing up to her top bunk to sleep at around 2:30 a.m.
This visit with my girlfriend was good for me in many ways, not the least of which was lots and lots of kissing/snuggling after missing each other last weekend. But also after our somewhat difficult conversation two weeks ago, I've been able to process that fully (with the help and support of my friends, especially Lori and Sylwia) and continue to live in the moment and love unconditionally. Polina and I continue to focus on loving each other as much and as best we can, given our circumstances, and building what we feel is a sustainable relationship with each other, and one that may someday include other people as well.