It was a wonderful weekend for me and Polina, even though our plans kept changing constantly. Friday night she was supposed to come directly out to my apartment and stay the night so we could go to the Poly Pride Rally in Central Park on Saturday morning. But when she was getting ready to leave Stony Brook she found out that her parents, instead of leaving for a music festival that day as we'd expected, decided to stay home one extra night so they could spend some time with her.
So Friday she went home to Staten Island, which actually worked out well for us because that gave me extra time on Friday night to make some peanut sesame noodles for the picnic. This is a cold dish that I have fond memories as a kid, but have never tried to make before, and unfortunately it didn't come out quite the way I wanted it to, but everybody seemed to like it anyway. Here's a rough recipe that I followed:
1 lb. Chinese-style white flour noodles, medium width
8 oz. Thai peanut satay sauce
½ red bell pepper, julienned
½ cucumber, peeled, seeded and julienned
1 bunch green onions, sliced diagonally
2 tbsp sesame oil
1 tbsp sambal olek
2 tbsp soy sauce
White sesame seeds
In a large bowl, combine all sauces and vegetables and let marinate while you boil the noodles to al dente. Drain noodles thoroughly and toss with sauce and vegetables. Chill and sprinkle sesame seeds on just before serving.
I also had more time to buy food at Costco, which included some tabouli, red pepper hummus, garlic stuffed olives, black seedless grapes and a few other things. I had gotten some spicy flatbread for the hummus earlier in the week, so I was putting together a kind of Mediterranean/Asian fusion menu. Unfortunately, I had bought some stuffed grape leaves the other day and subsequently forgot to bring them. But I also had to get a picnic blanket from Home Goods – I couldn't find one with a gingham pattern like the one my birth family used to use, but I did find a really huge white cotton one with a blue trim that was big enough to spread under my queen-size air mattress, with extra material left over to put the food.
Saturday morning I got up and ran some errands while waiting for Kerry to come over so we could drive into the city together. She had a little trouble finding my apartment, as most people do the first time they drive here, but by that time I had everything packed and we got moving pretty quickly. We loaded the air mattress, food, blankets, camp chair and her hula hoop into my cart and made our way to the Great Hill in Central Park.
Since we were late, Polina was already there and she ran over to greet me with a hug and kisses. She had been press-ganged to read interstitials and poetry between each speaker and/or entertainer that took the stage, so she had to stay nearby. Kerry and I made our way up to the top of the hill where my friend Adele (with husband Lance and child Haley from the Bridgewater picnic) was sitting. It was Adele's 44th birthday, and she was celebrating with cupcakes for everyone. Adele, Polina and I all got a shout in the poly news blog (
http://www.polyinthenews.blogspot.com/
)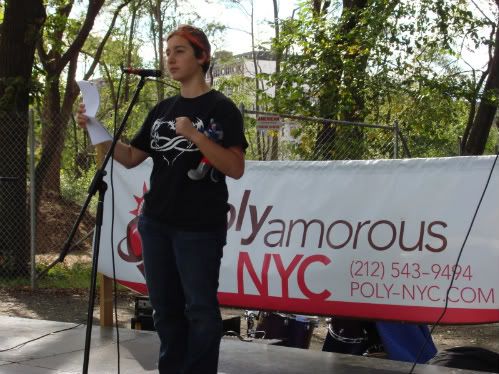 Throughout the day I saw many of my poly friends and acquaintances who have been mentioned in this blog – Reid, Barbara and partner Joe, Sylwia, Murray and Sandra, Carol, Karaoke Rob (since there are so many Robs, I need to qualify him), Justen, Patrick, Alan (the Boston-based poly news blogger), Kyle, Buck, Lyndell and a few others I'm sure I'm forgetting. Some of them took turns cuddling and making out on my air mattress, which of course is why I brought it. A couple of us gave Polina a back massage when she came up to hang with us for a while.
There were some wonderful musical acts, including N'Harmonics, an accappella group and a three-piece rock band, Houston Bernard & Bonfire Bandit, that were especially good. There was a hilarious cabaret performance by Raven Scheckter's We Three troupe doing poly-Jewish songs to the tunes of West Side Story (e.g. "Maria" became "A Triad"). Comic Kelli Dunham was the emcee, and Polina read various poly-themed letters and writings, in addition to one of her own slam poetry pieces. After her duties were finished, we sat on the air mattress surrounded by friends and I gave her a silver infinity heart pendant on a long silver chain to celebrate our first anniversary of meeting each other in the park at this event a year ago.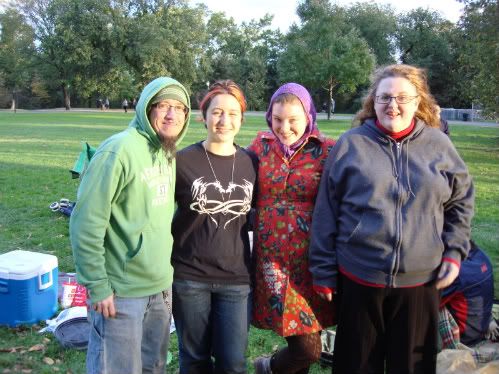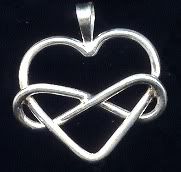 As the sun began to dip below the trees, we packed everything up and Kerry, Polina and I drove back to New Jersey together. Kerry came up to the apartment and we gave her the dime tour, as well as showing her some of our favorite books and graphic novels (Sandman, Lost Girls, Fables, etc.). She left soon after to take a babysitting job for a friend, and Polina and I went out to dinner at a nearby Indian restaurant. We came home and watched some episodes of TV show The Vampire Diaries on my DVR before going to bed.

We woke up really late the next morning, another benefit of shifting our sleepover to Saturday night, and made our usual breakfast of omelettes and turkey bacon. Polina wanted to get her hair colored again from its faded orange tint, so I made an appointment for her with my hair stylist, Edison. Before we left we had another relationship check-in that was a little difficult for both of us, but ultimately brought some closure to our last conversation at the frozen yogurt shop a couple weeks ago. We drove to her house in Staten Island for a quick stop before heading into Chinatown for the hair appointment. Edison created a deep purple tint for Polina's bangs, which she loved.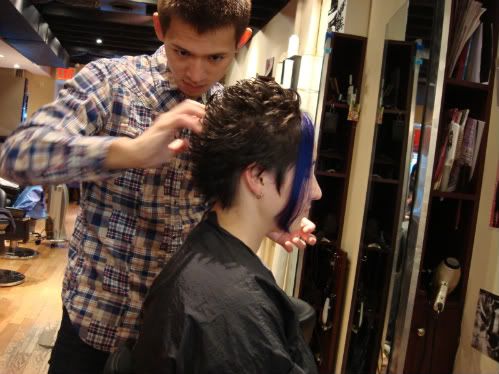 We got out just in time to walk over to the Film Forum on West Houston and 7th Ave. to watch "The Yes Men Save the World," a documentary movie about two guys who perpetrate elaborate hoaxes that illuminate injustice and corporate greed in the world. On our way back to Staten Island we got lost in Brooklyn for a bit and found this apropos street sign that sums up our weekend: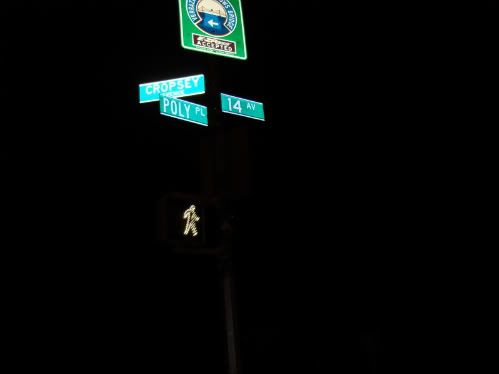 Her parents were home from the music festival by the time we got back, and her mom had the most amusing blank look of horror on her face when she saw Penny's new hair color. Both her parents hated the color passionately, and I can't really fathom why because the dark purple against her natural dark brown is much less flashy than the red, orange and yellow that she's been wearing the past several months. But Polina is very independent-minded, so I'm sure her parents' disapproval won't bother her too much – just as it doesn't seem to hamper our relationship too much. I stayed for a cup of tea and we said goodnight, ending another happy weekend filled with fun and adventure.