As you can probably tell from the headline, it was another busy weekend for me and Polina. I'm really happy that we continue to find reasons and ways to see each other as much as possible instead of going for several weeks or a month between visits. While we stay in touch constantly via phone, text and video chat, there is no substitute for touch and smell and feeling her energy shine from her eyes.
Friday night I left straight from work to head into the city to meet Angel, who had invited me to a party celebrating the first anniversary of Spice NYC, a queer party planning organization. The party was held at Leopard Lounge, above a bar called Sin Sin on 2nd Avenue and Fifth Street. I was early, so I went to get my nails done and browsed at a few shops before meeting her outside the door. She was toting her suitcase full of sex toys to show at the party and we sat at a booth while she set up a raffle for a dildo she was giving away. It was actually quite funny watching her show people a giant pink dildo and trying to get them to buy raffle tickets.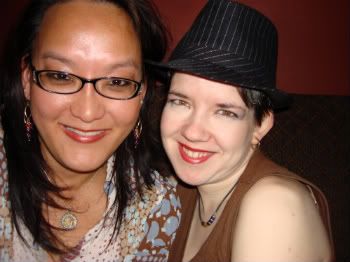 I left as the party was getting hot because it was still a long way out to Stony Brook University, where Polina goes to school. I bought a Garmin GPS unit on Friday since I no longer have my family to help me with directions when I get lost (I used to call them
Oracle
based on the DC Comics character) so I made decent time once I got out of Manhattan. Our friend Afiya was also visiting, so they came out and met me in the parking lot just after midnight when I arrived. I changed out of my work clothes and we went to another room on her floor to watch "Robin Hood: Men in Tights" and an episode of "Entourage" with a couple guys before returning to sleep.
Saturday morning we met up with several of Polina's friends to have brunch, which turned out to be a late lunch since we were waiting on people to show up.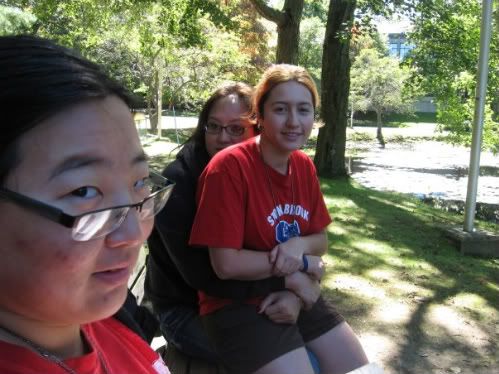 After lunch Polina left with her friends to get ready for band rehearsal while Afiya and I wandered around the campus looking for stuff to do. We found some people practicing walking on a slack rope tied between two trees, so Afiya gave that a try, without much success. We played basketball in the athletic center for a little while before they kicked us out. Afiya and I have yet to play a one-on-one match, which we've been trash-talking about for months now. Eventually I'll get to kick her butt somewhere. We parked Yoshi at the stadium and hung out, sitting on Yoshi's inverted couch out the back, tailgate style. We threw my softball around with her using my glove and I used batting gloves which are lightly padded in the palm - it's actually good practice for cricket, which doesn't allow fielding gloves except for the wicketkeeper.
Eventually it was time to go into the stadium, and we watched the pre-game show and visited Polina in the stands: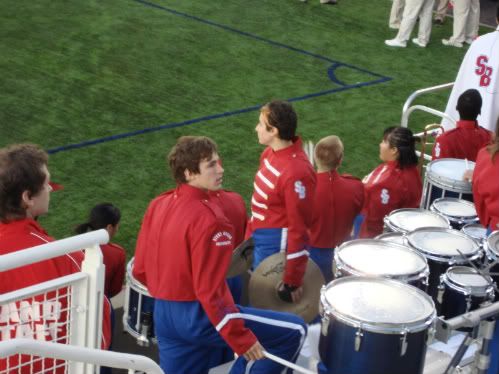 The halftime show was very entertaining, and I captured it on video using my camera, while Afiya took pictures from higher in the bleachers. They played Jefferson Airplane's "White Rabbit", Blue Oyster Cult's "(Don't Fear) The Reaper" (also known as the cowbell song from Will Ferrell's classic Saturday Night Live skit), "Thriller" by Michael Jackson (where the whole band gets to mimic the famous dance steps, and Penny gets to do them while holding cymbals), "Bye Bye Bye" by N*SYNC and "Disturbia" by Rihanna.
But while the band was very exciting, for once they could not compete with the football game, as SBU won the game 21-20 on a touchdown in the final two minutes and a missed field goal attempt by Brown University as the clock expired. Fans from the student red zone stormed the field in an amazing display of school spirit: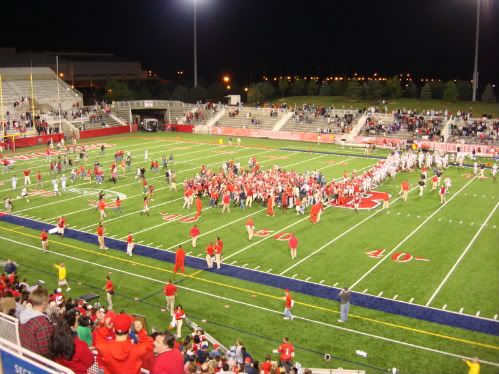 After the game the three of us went to an Indian restaurant to grab a quick bite before we were to drop Afiya at the train station, but we ended up missing the train by about a minute, so we dropped her off at her home on Long Island on the way back to Staten Island. All of Penny's grandparents were there, plus another family friend visiting for Rosh Hashanah, so we slept downstairs in the living room, her on the couch and me on my air mattress.
The next morning we had breakfast together and drove into the city to Pier 45 where Penny's Jewish community group
The New Shul
had a ceremonial throwing of bread into the Hudson River to symbolize tossing away your sins to the fishes. We then walked to Washington Square Park for a brief lesson by the rabbi, and Penny and I recorded a digital video greeting for her Dutch boyfriend Peter, who is having a commitment ceremony with his girlfriend Floor in Amsterdam this weekend.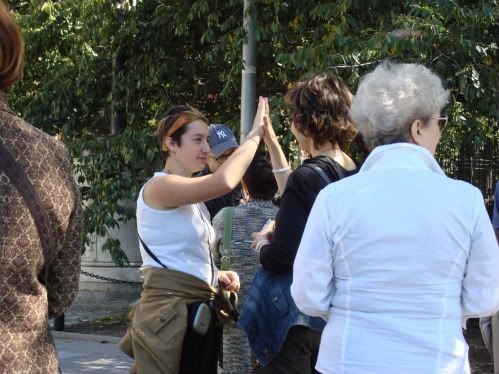 We stopped off at the group's art installation called
The House of Awe & Repentance
before going back to my place so Penny could do some homework and I could make us some food. I made her an improv meal of turkey bacon, white rice and kim chee, while I had some fried rice with very un-kosher Chinese sausage. We drove back to the city so I could drop her off at her grandmother's apartment for a birthday party which was for family only. Unfortunately, that meant I wasn't able to take her back to SBU as we'd planned, so she had to take the train back early Monday morning and call a friend to pick her up from the station.
Finally, I want to wish everyone a very happy Mabon, or Fall Equinox, which is today.