Hello everybody! Well, it's been a while since my last post, and a lot has happened. In a nutshell, Tara and I formalized our breakup on Sept. 1 (exchanged house keys, agreed not to visit/talk with each other anymore, etc.), got confirmation on my new job starting Sept. 10 in Princeton, and just got back from a three-night weekend retreat at my friend Buck's house in Middletown, NY with Open Love NY leaders Simon, Donna, and Kyle. How's that for an eventful week?
As the first two items are the most important but the most personal, I will focus this post on the most recent event, the trip to Middletown this weekend. The purpose of the trip was to do some bonding among the Open Love NY leadership and talk about our mission and vision for the fledgling group. We also had a lot of fun together hanging out, going to the Renaissance Festival, shopping and cooking together.
Friday night Simon and I drove up together and met Buck, Donna and Buck's daughter Clara at Buck's house. Simon, Buck, Donna and I went to a Mexican restaurant called El Bandito for dinner, which was pretty good food for the northeast. We also stopped at a hippie store across the street and I saw a wonderful gong windchime that I fell in love with, and resolved to buy later.
Saturday Kyle arrived by train, and we all went out to Sugarloaf, a quaint village filled with artisan crafts stores of all kinds: clothes, magick shops, artworks, herbs, records, etc. We visited all the stores, but didn't buy much other than some fresh vegetables for dinner. We stopped by Donna's condo in Chester, NY to visit with her son and his fiancee who live with her, then back home so Donna could start dinner. Buck and I went out to the grocery store for a few things (he let me drive his BMW Z3 because his back was hurting) and when we came back we sat down to a meal of salad, stuffed artichokes, un-chicken parmagiana, portobello mushrooms stuffed with a broccoli rabe, angel hair pasta with tomato-vegetable sauce and ice cream for dessert.
Sunday we got up early to go to the New York Renaissance Faire in Tuxedo, NY, only the second time I've been to this particular event (although I've been to the Texas Ren Faire many times). Here we are at the front gate:
The first show we saw were some aerial acrobatics, like those my friend Kerry can do, in the context of a play about the tales of Scheherazade: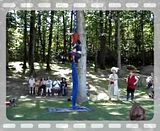 The best thing about going to the Faire was that now that I have a job in front of me, I felt a little more comfortable spending money (which makes it so much more fun!) I bought several things at various shops, including a gorgeous purple leather mask that reminded me of Neil Gaiman's characterization of Death of the Endless from Sandman (I also got an ankh to complete the image), a pewter talisman for poets and writers (appropriate for someone starting a writing job), a new sterling silver talisman of a seven-pointed faery star, and a replacement pair of goddess earrings I had bought the last Faire that I subsequently lost in the fire of 2007. I also bought a pair of lace-up leather bracers, or wrist guards, for Polina.
We also saw the glassblowing demonstration, which is always a fan favorite - here they are just finishing a small flower vase: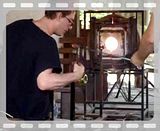 Kyle's new boyfriend Mike joined us for the day and we saw a comedy show starring two nuns called "Hey Nunnie Nunnie!" that was quite funny. We also saw the jousting and a bit of the stunt show. Interestingly, this year the Faire was rebranded as a "family festival" so unlike past events, you could not buy sharpened swords or other weapons (although swords for stage play or display were available) nor could you buy any whips, floggers, handcuffs or other kinky items that have been available in years past.
We came home and ate leftovers from the huge meal the night before, and sat up to watch
The Unbearable Lightness of Being
, one of my all-time favorite movies which has a quasi-poly theme and generated a lively discussion into the wee hours of the morning.
Monday we actually buckled down to get some work done on our work for various poly groups, including Open Love NY. We started working on recording a timeline of polyamory for the Polyamory Leadership Network, and the bylaws for OLNY. I also tried to go back to get that wind chime gong, but the store was closed for Labor Day, so I gave Buck the money to pick it up for me later. We worked on things for as long as we could, then Simon, Kyle and I drove back to Wayne so they could take a bus back into Manhattan.
Here's a picture of our group at our lunch on Monday: