Guess it's time for an update before the next round of activity starts again tomorrow, since it's been a week since my last post.
Friday I drove into the city and met with Polina and her friend Reiko near Union Square. I met Reiko on New Year's Eve, but we didn't get to talk very much, so it was like our first meeting. However, she is planning to go with us to Great Adventure next week, so we'll have plenty of time to get to know each other. We chatted for a bit over frozen yogurt treats, then she went home while Polina and I went to Brooklyn to see the Adventure Quest play at a venue called The Brick.
The play basically started as a live-action version of an early text RPG (e.g.
Zork
) with actors playing the roles of the Hero (who reminded me of Dirk the Daring from
Dragon's Lair
), Guard, Peasant Girl, etc. But as the Hero goes from scene to scene, talking to people and getting the same answers over and over, and figuring out what he needs to do, it slowly turns into an existential parody where he questions why he has to kill everyone in order to achieve his goals. Plus he falls in love with the Peasant Girl instead of the Mayor's Daughter whom he's supposed to rescue. There's an omniscient female computer voice giving instructions which adds to the realism (i.e. "You can't do that") and a points counter projected on the background goes up every time he does something right. It was a very clever and funny play, and a must-see for computer game geeks.
We met up with two new people at the play - Rob, a guy Polina and I met at the last Poly Cocktail Hour (
"Deep fried pickles" - July 14, 2009
) and Kevin, a bloke she met on the bus back from Otakon in Baltimore. After the play, we went to a diner for a bite to eat, then trekked back to Manhattan to find a karaoke bar in Korea Town, an area around 32nd Street and Broadway. Believe it or not, it was my very first time in a karaoke bar - since I grew up with karaoke machines in the house, there was never any reason to go out for that kind of entertainment.
So here is me singing Linkin Park's "In the End" - I sang Chester Bennington's part, and Polina rapped Mike Shinoda's lines, so we did it as a duet. We also sang "Attack" by 30 Seconds to Mars together, but that was a hard song to sing!
There was a lot of multilingual singing, as Rob is fluent in Japanese, and Kevin in Chinese. Polina also sang a few songs in Japanese. However, none of us were familiar with Korean, which made working the Korean remote control somewhat of a challenge. Kevin and Polina sang "Tribute" by Tenacious D together, Rob sang "Don't Look Back in Anger" by Oasis and "Beautiful Ones" by Suede (among others - he's a really good singer). Kevin and I sang "Sweet Home Alabama" together, and we all sang "Phantom of the Opera" together, with Polina and I singing Christine's part and Kevin and Rob singing the Phantom's part.
One cool thing that we realized near the end of the night was that the four of us were each from a different decade in age: Polina in her teens, Kevin in his 20s, Rob in his 30s, and me in my 40s (biologically speaking). I have to think that's a pretty rare thing, and further proof that age is just a number, not a limit at least when it comes to having fun. From left to right, here's Polina, Rob and Kevin: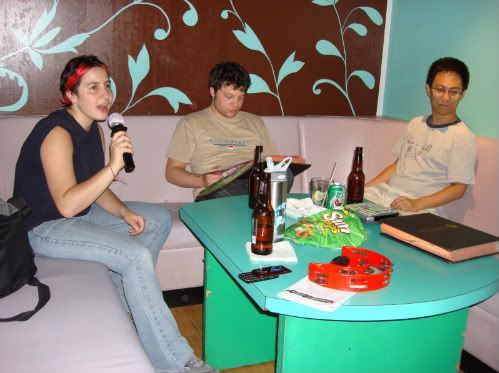 After a couple hours of singing, we parted ways and Polina and I headed back to her place for the night. The next morning we had Shabbat breakfast with Penny's parents before her grandparents, older sister Sofia and her husband Robert came over for a visit. Sofia and I spent a couple hours going through Penny's closet and critiquing her wardrobe before I left for home for Saturday night dinner with my family. After dinner we watched "Indiana Jones and the Kingdom of the Crystal Skull."