I had a nice time out last night with Polina and Afiya for a screening of Polina's short film, "Learning to Lead" at this year's class of
A Different Take
, an annual summer program that sponsors LGBTQ youths to make films about their lives and experiences. Polina participated in last year's class, and her film was shown at the MIX 21 Festival last October, where we went for our first date.
I was a bit early getting to Bluestockings, the queer bookstore where we were to meet. While waiting, I met and chatted with some people from Austin who were reading Julia Serrano's book
Whipping Girl
. Once Polina and Afiya showed up, we went to nearby Katz's Deli for a bite to eat. Katz's is the famous deli on Houston Street (pronounced HOW-stun) where the orgasm scene from
When Harry Met Sally
was filmed - in fact, we sat one table away from the exact place where Meg Ryan demonstrated her acting chops (it's marked by a hanging sign). Here's a picture of my pastrami and chopped liver on rye, something I saw Anthony Bourdain order on his show, "No Reservations" on the Travel Channel: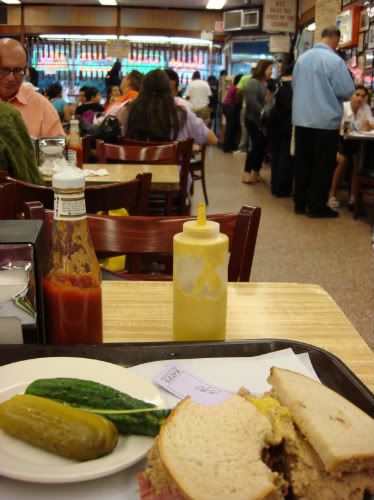 After eating, we strolled over to Le Petit Versailles, a public garden in the East Village maintained by neighborhood volunteers. Polina got reacquainted with her former teachers and colleagues, and we started the screening as soon it got dark enough.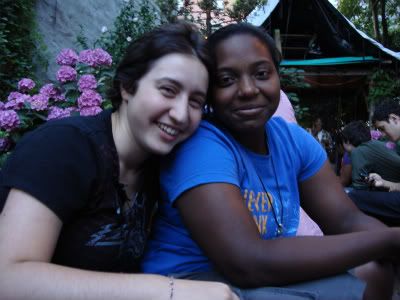 Polina had also invited Marc, a guy she met while in Argentina, and his boyfriend Xavi, who were visiting New York together, and they showed up midway through the program, just in time to see her film. Marc and Xavi are both journalists who live in Barcelona, Spain, and are traveling the world, working on research for a book and other projects.
After the screening, some audience Q&A and socializing, we decided to find a place to get a bite to eat. Polina invited me to stay over at her house so I wouldn't have to bail on the group in order to catch the last train back home. We made our way to St. Marks Street and found a Japanese restaurant where we had a late snack and chatted until about 1:30 a.m.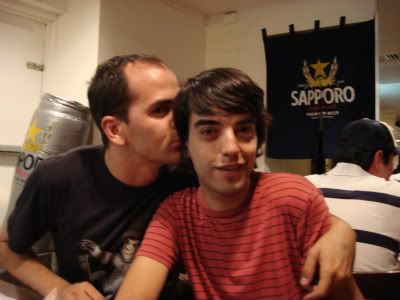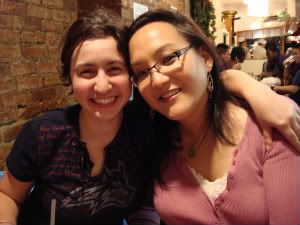 After walking Afiya and the guys to their respective trains, Polina and I headed to Staten Island, and got home about 3:30 a.m. She showed me her shiny new MacBook Pro and some YouTube videos on her new iPod Touch before we turned the lights out. In the morning, we had Shabbat breakfast with her parents and grandmother and played around with the MacBook some more until I started to make my way home.