Lots of odds and ends going on in my life, and for the moment, plenty of time at work to write about them, so here we go.
In the category of news of the weird, here's
a post from Neil Gaiman's blog
– apparently Australia has granted human rights to cartoon characters by a court ruling that X-rated images of Bart, Lisa and Maggie Simpson having sex together constitutes child pornography. This ruling means that every Australian who owns a copy of
Alan Moore's Lost Girls
(as both Tara and I do) is risking imprisonment for possession of kiddie porn.
On a lighter note, I actually had a great time at the company holiday party on Friday. We take over the sub-level of a nearby upscale Mexican restaurant called Dos Caminos, which has pretty decent food, and outstanding guacamole, even to a Houstonian girl like me. I started the night chatting with some of the senior members of the staff, two people who have been at Agent K more than 70 years between them. They were telling me all the sordid stories of bygone days where office sex and three-martini lunches were the norm, before political correctness and the threat of lawsuits crept in – it sure made the present day sound safe but boring in comparison.
During the prize drawing, I won something for the second year in a row, a Motorola Bluetooth wireless headset so that I too can look like
Lobot
(I'll probably just end up using it at home or giving it to Penny). As the party started to wind down, all the young women in my group started to congregate at my table for some reason, making me feel a bit like a mother hen. Most of them went off to another bar to continue the celebration, but I'd had enough at that point and went home to watch my Rockets basketball game.
Tara came over later in the evening and we watched
Star Trek: First Contact
, continuing our month-long Trek movie marathon, followed by snuggles in bed. In the morning we had our bacon and pancake breakfast, followed by more snuggles, which was kind of a bad idea because you shouldn't exercise right after you eat, but somehow we managed. Unfortunately next weekend we will not have quite the leisurely time of it because she will be getting up early to go to Hartford for a two-day rehearsal session. Her three-piece band is getting back together after a year-long hiatus to start performing again, and completing their second album.
Saturday night everybody came over for dinner and to help me put up my Christmas tree and decorations, and to watch two episodes of Heroes and a very funny Saturday Night Live (welcome back Amy!) Sunday we went into the city to kick-off the Christmas season by visiting our favorite trees, the Angel Christmas tree at the Metropolitan Museum and the big tree at Rockefeller Center. While we were at the Met, we toured the newly opened Medieval European galleries and the Italian Renaissance special exhibit, then took the subway to Rockefeller Center to visit St. Patrick's and the big tree there. Bee did her annual project of bringing cheer to the homeless by giving out bags of food to those we saw (we only spotted two because of the cold, but they were very happy to receive the gift bags). The howling wind and sub-freezing temperatures we encountered coming back to the Met was ferociously cold for everybody except Tara (who is half polar bear, half arctic bird it seems) but we managed to arrive with all fingers and toes intact. We drove back to NJ and had a fun and tasty dinner at one of our usual diners because everything else was closed.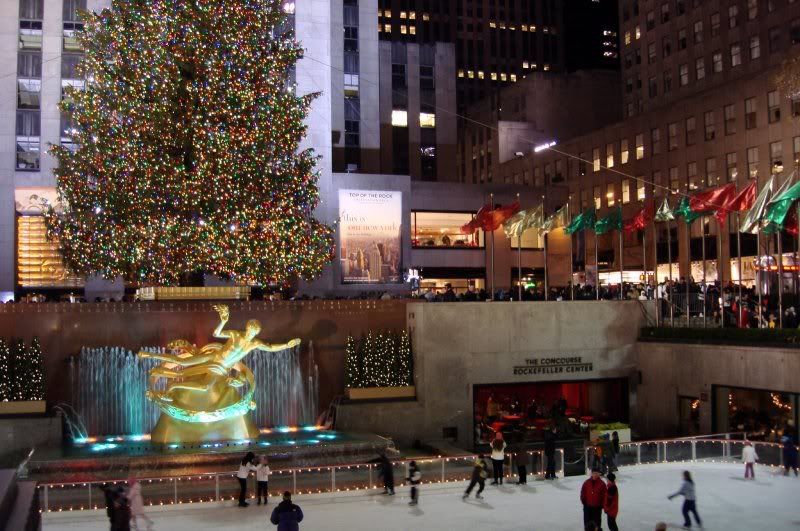 Last night Tara and I watched
Unforgiven
, the 1993 western directed by Clint Eastwood that was nominated for nine Oscars and won four, including Best Picture and Best Director. This has long been one of my favorite movies, and one of the few westerns I like (others are Silverado, Tombstone, The Searchers, and The Magnificent Seven). Unforgiven is a bit different from most westerns I've seen in that it's less of an adventure than a character-driven drama piece, although all the classic elements of the western are skillfully woven in. Happily, Tara enjoyed it very much so it was time well-spent.
Tonight I'm having dinner with Penny and Lori, the first time in my modern history that I've spent time with two of my friends at the same time (although my friends have brought their friends to spend time with me before). Given that I can count my local friends on one hand, this is likely to be a rare occasion.