It was quite a busy weekend for me, and but well balanced with time at home as well. Friday night I took my family out so they could buy new cell phones and then we had dinner at the mall and visited the comic book store, where I got my latest issue of Buffy the Vampire Slayer Season 8.
It was a soggy night, but the morning dawned clear enough for me to go to the Meadowlands flea market with Agnieszka, held each Saturday in the parking lot of Giants stadium. I like to go because there's a bakery that brings artisan bread all the way up from Brooklyn and sells there, so I get bread with olives, proscuttio, or jalapeno pepper and cheddar cheese baked into it. Agnieszka looks for antiques and things she uses for her pin-up photo projects - this week she bought a black velvet hat with a veil and an old-fashioned bellows camera.
In the afternoon Tara and I went into the city to visit MOMA and their
Design and the Elastic Mind exhibit
once more before it closes. Then we were going to take the subway downtown to see a gallery showing paintings by Clive Barker, but we sat in the station for almost an hour before figuring out that the V line was not running that day. So we had to walk to Rockefeller Center to get on the F train to get down there, but the reward was that once we got there, we were the only ones in the gallery, so we were able to take some nice pictures of the paintings without crowd interference. Here's a couple examples of the paintings: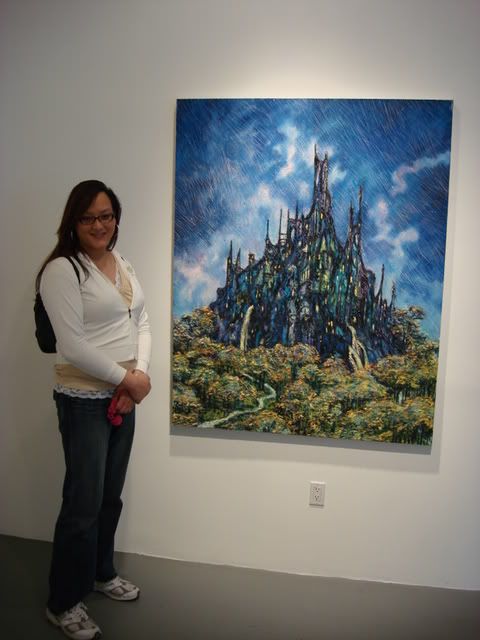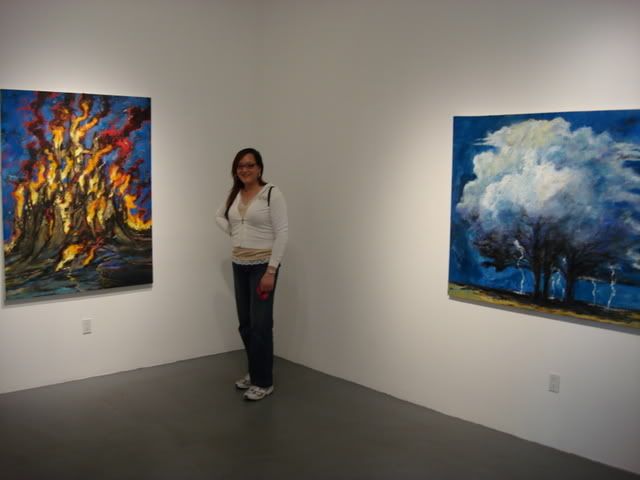 After seeing the paintings we came back home and met up with Bee and Bug at my place for Saturday night dinner and movies, looking at the pictures we took today, and listening to
In the Name of Love: Africa Celebrates U2
.
Sunday was Mother's Day, and since Tara and I don't celebrate these kinds of holidays (e.g. Easter) with our respective birth families, we spent the afternoon together in my bed having incredible sex, since she's mostly recovered from her food poisoning. Afterwards we went to Costco to get some food, and she wanted to go home, but I was being a little emotional about letting her go, which made things a bit uncomfortable. Fortunately, once everyone got home, we decided to go out and see
The Forbidden Kingdom
, the martial arts film which was directed by Rob Minkoff (probably best known as a co-director of Disney's The Lion King). It was actually a much better movie than most of the ones I see in the genre in terms of story, but doesn't approach the visual artistry of movies like
House of Flying Daggers
and
Hero
.
Back to work today - bleh.