Ah, the weekend. It seems even more welcome after a short week. This week has been pretty crazy for me, actually. On Wednesday I got thrown a job to put together a response for a request for qualifications for a climate change coalition. Luckily I was able to borrow from our unsuccessful bid for the ethanol coalition last year, but I still ended up staying until about 8 pm Wednesday, then just got it wrapped up at 5 pm right before the deadline on Thursday. Lucky too because I had planned to take Karina to get her hair cut at my salon in Chinatown, and I kept her waiting for about 10 minutes because I was late getting out of the office.
The upside to this week is that we got free pizza in the office on Wednesday, and Friday we had our monthly luncheon, free lasagna and salad in lieu of our usual morning muffins and bagels. Apparently it's Italians who run things around here, or that's the safest thing to order for everyone. Personally, I'd love to see some Mediterranean food or Vietnamese food ordered once in a while. Ethiopian is probably not good for big groups since you eat with your hands - you might catch something.
Anyway, I'm sure you all want to see my new glasses, so here's a shot I took this morning from my Web cam - these frames are by designer Michael Kors: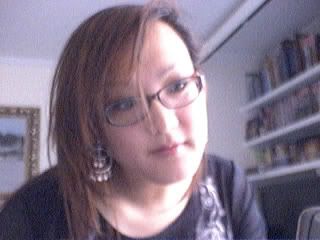 And I also got my old Anna Sui glasses back with my new prescription lenses: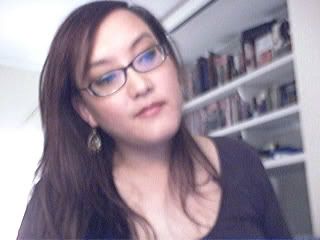 Headed out to do my errands now - the vegetable dumplings were such a hit last time with my family that we're doing it again tonight. I think I'll make some for myself this time also, and maybe I'll make a red vinegar ginger sauce to go with it. Some fresh garlic would be nice too. Hope everyone is having a nice weekend!