So, who's still here?
It's been almost three months since my last post, and I'm still alive. Nothing significant has changed, except maybe that one of my co-workers left Nearing so I've had to pick up a lot of extra things and that means less time for blogging during the day, and less energy to do it at night.
But mostly the reason I haven't been writing is that aside from a few ups and downs, things have been flowing along pretty routinely. I see most of my friends regularly, either for TSMC at my place or one-on-one events, and I've immersed myself in various things (books, movies, TV shows) during my downtime from work. Let me offer a lightning-round recap of the past three months:
4:26: Steven Wilson concert at Best Buy Theater - awesome concert!
4/28: Christine's birthday at Citi Field, watching a Mets game from a private box
5/2: Saw Kinky Boots with Liz
5/15-16: Jury Duty at NY Supreme Court, but thankfully didn't get picked
6/12: Helped Chelsea move to her new apartment on St. Marks
6/29-30: Weekend trip to Connecticut with Puck to see Drum Corps International
In addition to the show, we also visited several Connecticut culinary landmarks that I've been wanting to try, like steamed burgers at Ted's Restaurant - this is the "Dragonfire" steamed cheeseburger with a fried egg, sauteed onions and habenero ketchup: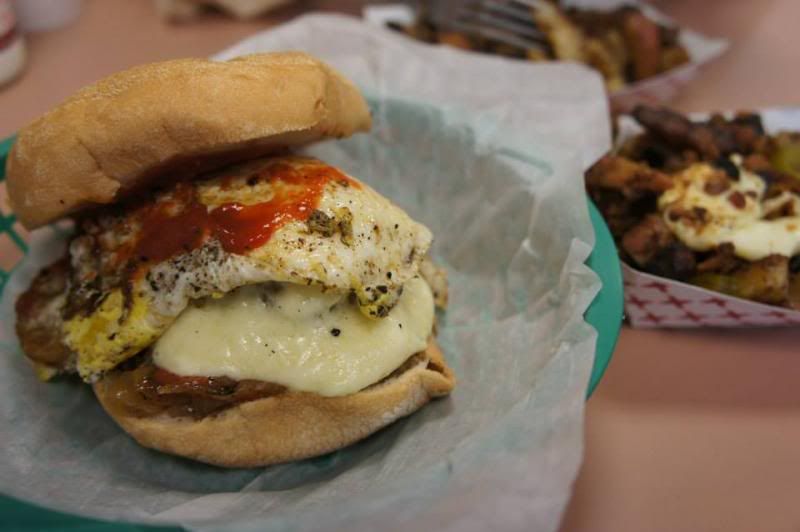 We also went to Frank Pepe's Pizzeria on Wooster Street and had their famous white clam pizza, which was astounding (if you like shellfish):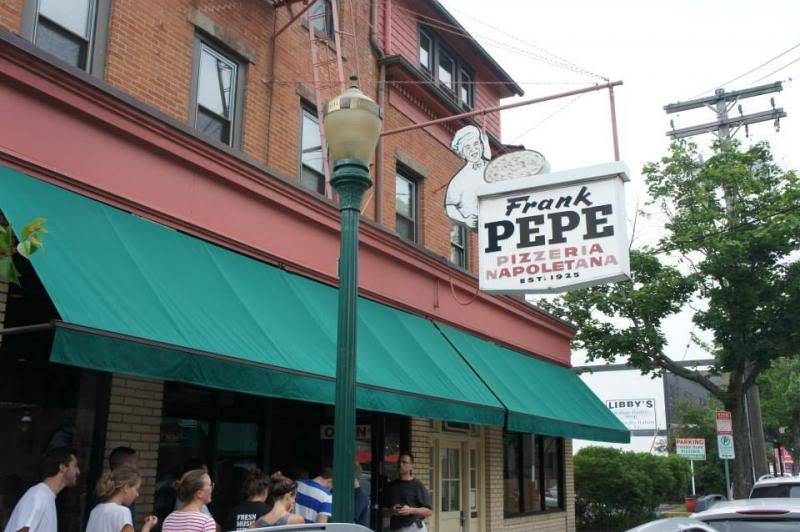 Before the show we found some time to visit the Yale Museum and hang around the town square in New Haven, plus visit Atticus, a very cool independent bookstore for tea: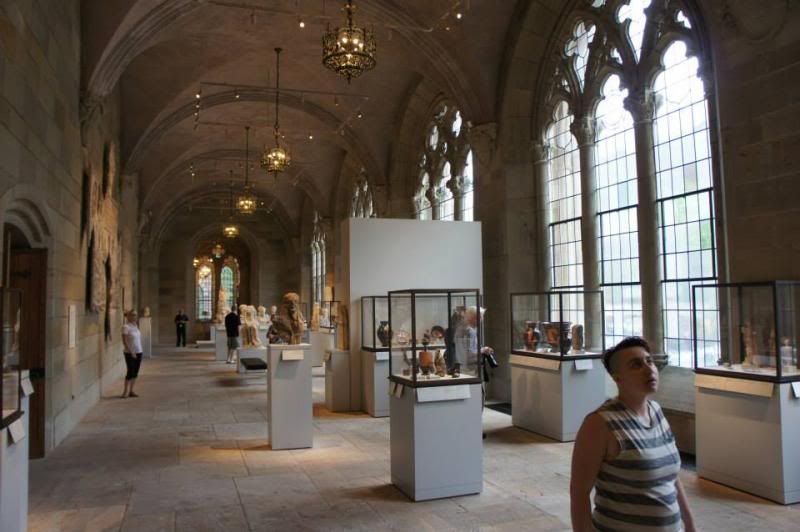 This past weekend was my 9th birthday (officially Monday) and it was every bit as good as last year's shindig. Once again, Morgan came to visit from Pennsylvania, so I went into work on Friday for the first time since July 4 (I had an eight-day staycation) to meet up with her and ride the train home. We went to Papacookie that night, where my miso garlic noodles and mochi were big hits and I got to retrieve my yoga mat since Emily's classes are on hiatus. We heard some good music and got to see Jonathan, Miriam and Richard for the first time in a while. Chelsea and Kacey also showed up and we got to chat a bit before heading home.
Puck came over the next morning and we met up with Perri in Times Square to try the Kinky Boots lottery. Unlike when Liz and I went, they are no longer doing rush tickets, so we struck out on the matinee drawing (three people from the same Australian family all won) so we went uptown for brunch at
Peacefood Cafe
, a vegan restaurant. We sat at the counter because it was quite crowded, but that turned out to be a good call because they gave us a lot of free stuff, like extra watermelon that wouldn't fit in a container, cookies that were not perfect enough to sell, a watermelon and mint drink they whipped up to try on us and more.
We stopped in a store to get some bedsheets for Puck, then went down to
Beard Papa's
for creampuffs and
Lush
for bath products. Then we went home and watched the 2009
Star Trek
movie before heading out to try for the evening KB lottery, where we lost again. So we went to
Queen of Sheba
for Ethiopian food and came home to watch
Les Miserables
on the big screen, so that at least we would get to see one musical that day.
The next morning, Morgan, Puck and I switched tactics and tried a multi-pronged strategy that consisted of each of us waiting in a different line - Morgan at Once, Puck at Pippen and me in the TKTS line. My line came up first and we got three half-price seats for the matinee for
Once: The Musical
. After we got the tickets we went down to Union Square to have brunch at
La Petite Abeille
, a wonderful Belgian restaurant. We came home to change for the play and my birthday party and went to see the show, which was fantastic! The music was captivating and the performances were solid. The seats were in the back row of the orchestra, but the view was close to center, so that was better than expected.
We walked a block from the play to Buca di Beppo to wait for everyone to arrive. Altogether we had a party of a dozen lovely people gathered to celebrate my 9th birthday. Our server, Anthony, looked a little shellshocked and made several blunders on service - including forgetting the salad so it came out after the entrees, dirty plates that needed to be replaced, and running out of both the Chianti braised ribs and tiramisu (TIRAMISU?!?! in an ITALIAN RESTAURANT???). And, their cappuccino machine wasn't working - they barely managed to serve hot water (in lieu of Lipton Undrinkable Tea).
I had tried to order a large plate of ribs, but Anthony said they only had a small plate left (which feeds two people). Apparently, another large party had ordered ALL the ribs that the restaurant had on hand (and probably the tiramisu as well, which led to speculation that it was a room full of people gorging themselves exclusively on ribs and tiramisu), so we literally got the last two little ribs left in the building, which we all found very amusing. On the bright side, the ribs were very good ribs (although not as good as last year's Malaysian-style ribs) and were easily split up among the whole table.
But on the brightest side, despite all the service snafus (and even because of them) it was a great party! We told stories and laughed for three hours. They brought a candelabra out for my birthday wishes (but thankfully didn't sing to me) and my friends gave me lots of beautiful and unique presents.
As I look back on the first half of this year, I feel a profound sense of gratitude for my friends and family, most especially Puck. By most measures, it is a strange fate that brought me to this life, and I know it can take me away at any time. But for one night, for one moment on Sunday, I knew what it felt like to be surrounded by people who care about me and about each other, just the way a real family would.