So, it's been a couple weeks since the Sigur Ros concert, and I thought I'd get in an update before my next concert (!) on Saturday, when I'm going to see Muse with Christine at the Mohegan Sun Arena in Uncasville, CT.
I am super-excited about Muse, partly because they are an incredible live band (see the bottom of this post,
"Live music mix" - April 10, 2009"
) and because it gives me the chance to address one of the few regrets I have from my New Jersey family days, namely, that we chose to see the Police reunion tour instead of seeing Muse at Madison Square Garden back in 2007. Although I loved seeing The Police (
"24 hours of Bourne" - Aug. 6, 2007"
) and they are one of my all-time favorite bands, I'm certain I would have enjoyed the Muse concert more because at that time they were a young band on the rise. So six years later, I finally get to rectify that oversight.
Life has been fairly quiet these past two weeks. I've screened several movies for TSMC, including two double features back to back on April 5-6 that were well-attended (Scott Pilgrim vs. the World / The Perks of Being a Wallflower and The Hunger Games / Battle Royale). That Sunday I went to see Liz's current play, "Smoke" (
tickets here
) and then followed her and a group of friends a few blocks north to where they celebrated her birthday. I had to leave after a few minutes for yoga, but I gave her a Texas cookbook for her birthday present when she and Josh came over for Hunger Games.
Monday night I went with Angel and some of her friends to see Jekyll & Hyde, the revival of the gothic rock musical I saw way back in 1990 when it premiered at the Alley Theater in Houston. This version was less impressive, although the female singers were quite good. The sound system at the Marquis Theater is really pretty sub-par; maybe that's part of the reason why shows close so quickly there (e.g. Evita, Wonderland).
Last week Piper and I continued our Kubrick marathon with "A Clockwork Orange," preceded by dinner at
City Lobster
, a nearby place I've been meaning to try. When I was young, my family used to go to a seafood buffet in Houston called The Boston Sea Party where they served you a whole lobster along with all you can eat seafood that included raw Gulf oysters and caviar. But I can't even remember the last time I ate a whole, steamed lobster. Piper had the San Francisco Cioppino, which was also good.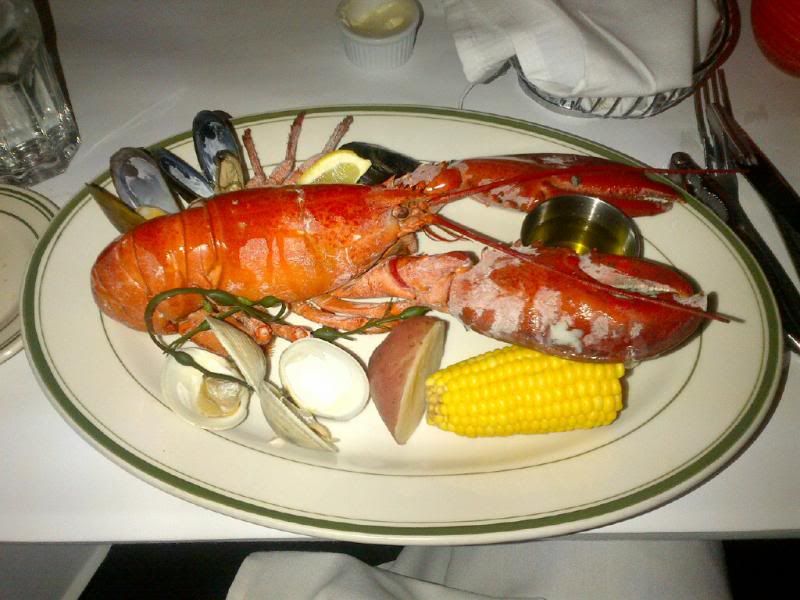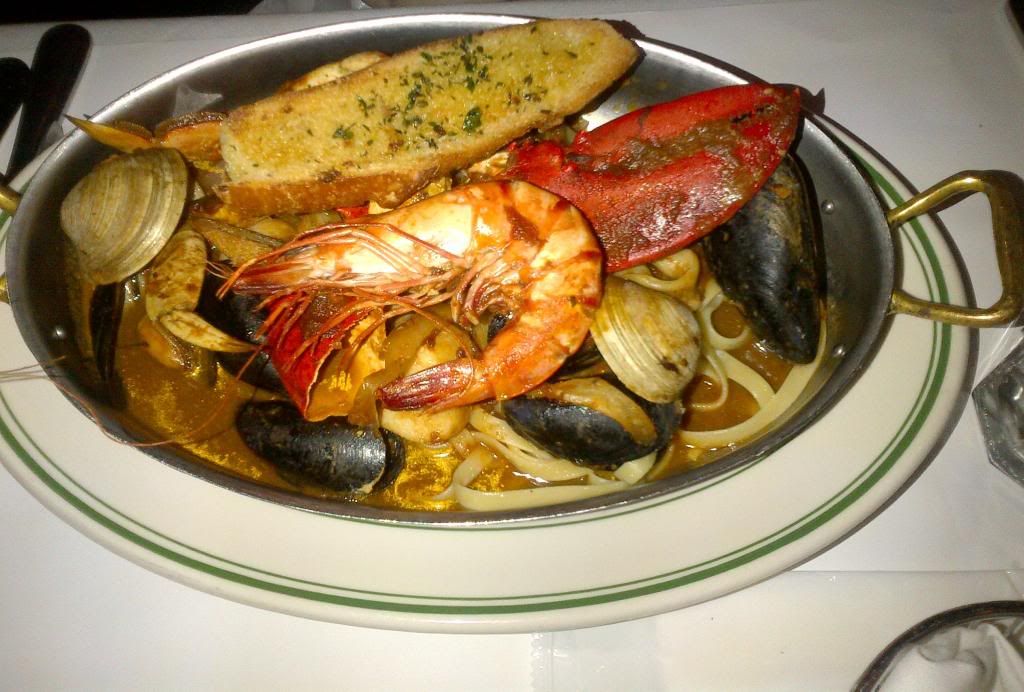 I had the Profiteroles Arabica, with coffee ice cream and a dense chocolate-espresso sauce for dessert.