This weekend was my third Passover spent with Puck's family. As always, I appreciate being included in these family functions - to me, it's a small gesture of acceptance of my relationship with Puck.
Friday night's Seder dinner was family only. There wasn't as much singing as last year, but the food was good. We had matzo ball soup, cubed veal, mashed potatoes, gefilte fish and a pickled shredded cabbage. I brought two kosher wines, a bottle of Moscato and a Cabernet Sauvignon for the toasts.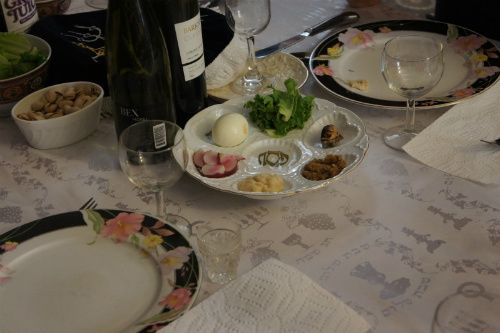 On Saturday Puck had to work so I went out to explore the Staten Island Mall in the afternoon. I walked the whole mall, then went to Marshalls to get a few things - a new purse, a couple skirts and a few tops, pillowcases and some odds and ends. When I got back Puck made me an omelette and we started watching Doctor Who before Seder. For this one, we were joined by Puck's neighbors and an out-of-town family friend, Pavel, with whom we went skiing two Christmases ago.
Sunday I led a group to see
Jiro Dreams of Sushi
, a documentary about the world's greatest sushi chef, at the Lincoln Plaza Cinemas. Our group included Piper, Kacey and Becker, Lourdes and Azizi, an actress I met at one of Kacey's fundraising events.
Easter Sunday was also my "friendiversary" with Kacey, since we met last Easter at Storm's Easter egg decorating party - she even wore the same jacket to honor it. When I think of Kacey and how our friendship has developed, it always brings to mind that quote from F. Scott Fitzgerald from
This Side of Paradise
: "They slipped briskly into an intimacy from which they never recovered."
So back to the movie. After watching all that food porn, we had to walk up a few blocks and have some sushi at
Tenzan
(although Azizi had chicken teriyaki, so I guess she doesn't eat sushi). It was mediocre sushi at best, but it's impossible to compare after watching a three-Michelin star sushi chef at work.
I had to rush back down to the apartment and change to get right back to Papacookie in the same neighborhood for yoga, and I arrived 20 minutes late. I really need to be better about arriving to yoga without being a giant bundle of stress. We've also been off the last two weeks, so it was a strenuous workout for me. I'll be glad when my apartment finishes its remodeling in June because it will include a workout room so maybe I can use it to get in better shape. The problem with my gym has always been that the hours don't go late enough on weekdays, but an on-site gym should do the trick.
Oh, I will also mention that last Monday, Puck, Kacey, Becker and I attended Shotz! again and had a really nice time. The theme was that in each short play, a character had to be lost (physically or figuratively), there had to be a power outage, and the line "In the end, you to have choose whether or not to trust someone" was to be included. That's a quote from Sophie Kinsella, the author of my beloved Shopaholic books that I used to read. I think my favorite was the first short, where a man conquers his fear of heights with the help of some tough love from a carnival barker so he can go through with his marriage proposal.
After the play we went to a nearby St. Marks restaurant and chatted over sweet and savory crepes. It was the first time Puck has met Becker, and I hope to have more outings together with the four of us.