After a month of nearly non-stop activity (Best Picture Showcase, Houston, Wicked Faire, Wicked Lake House party, and road trip) this is the first weekend in a while that I haven't had any plans.
The 5th anniversary Poly Cocktails party on Monday was a blast - it was just about as crowded as the holiday party back in December. Of course, after driving for almost 11 hours back from Columbus that day, I was a little zonked. Puck and I had dinner at my favorite Vietnamese hole-in-the-wall place on the Lower East Side. I got up with Diana and O Man to give a little speech about how Poly Cocktails has become the "front door" for many people to enter the polyamory community in NYC, and most of that is due to the friendly and welcoming atmosphere we've worked to create.
Tuesday Puck had a doctor appointment in the afternoon while I went shopping around Union Square, exchanging a pair of shoes at Nordstroms Rack and getting some tea at Whole Foods. Then we drove back to Staten Island to drop them at home and I returned to meet up with Kacey for some overdue catching up.
I parked Yoshi in midtown and met her at her workplace. We took a walk to the Radio Shack to buy a connector for my new Playstation 2 and then walked down Park Avenue until she could break her fast. By way of celebration of my raise and bonus, I took her to
La Mangeoire
, a French restaurant I've been to once before with Ken, back when we were dating. We waited a few minutes and snagged one of the two outdoor tables along Second Avenue so we could dine under the glittering skyline in the cool of the evening.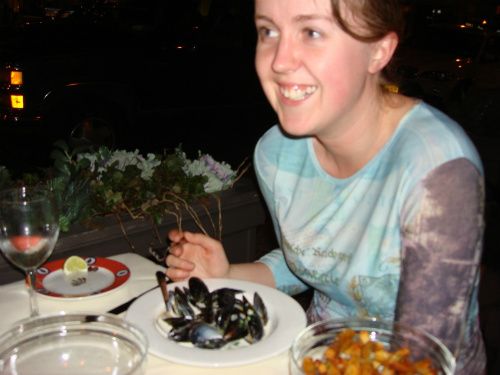 Wednesday I wore my new Nike AirMax shoes to work and boy, did I get a lot of comments about them! They are really flashy purple and bright orange and super comfy. A couple co-workers said they liked them, and my friend Yusha said "I wish I could get away with wearing what you wear to work, but I love it."
On the train home, I sat in the "quiet car" and a man actually got up from his seat to tell me how much he loved my shoes before sitting back down. That are that eye-catching!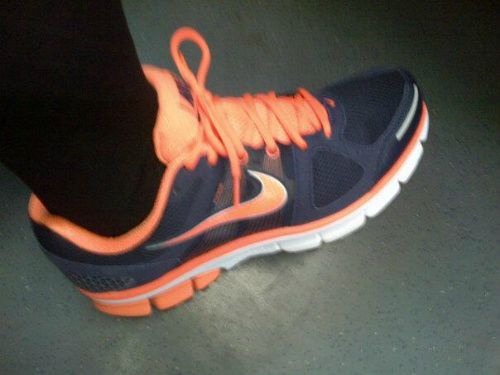 You know, I really enjoy it when people notice these things about me: my hair, my makeup, my clothes. I like being flashy, even though my personality and demeanor are anything but. If my hair was its natural color all the time, no one would ever say anything or notice it at all. I'd rather get compliments and run the risk of being inappropriately loud than to just be boring and conformist. After all, I'm in a creative profession so I'm entitled to a little leeway with my appearance.
Friday night was the MMMM and it was a nice surprise that Puck decided to come after their visit with Ryan instead of going straight home. They went straight from Penn Station and I met them at the diner, where we chatted with our friends Kiwi, Beth, D (who came down from MA), Anastaysia and Bella. We also got more acquainted with a couple new people named Katie, Emma and Stella (the latter two whom we met at Monday's Poly Cocktails).
I was so sleepy by 2 am that I opted to pay $10 for us to take a cab back home, even though it's only about a 15 minute walk. And one thing I love about living in Times Square is that no matter how late I get home, I always feel safe walking home because there's always people about and it's so brightly lit at all hours of the night.
The next morning we woke up late, around 11 am, and we had planned to have breakfast at the next-door Irish bar, Langan's, in celebration of St. Patrick's Day. There were two problems with this. First, we woke up so late that they were not serving Irish breakfasts anymore. Second, the bar was already packed with rowdy revelers. So we went across the street to our backup plan, the Evergreen Diner, for a more normal breakfast at the counter before Puck left for home.
The rest of the day I've been snoozing, doing laundry, watching the Rockets lose to the Clippers, packaging up recycling and blogging, of course. Since everyone's out partying, I have the laundry room to myself, which is quite a rare treat. Tomorrow is another quiet day, with yoga in the evening at Papacookie. This is definitely a weekend much needed.