So, now that I'm feeling better, it's time to tie up one last loose end from 2010 before anything major happens in 2011; namely, the issue of the Christmas ornament.
As I've said before, I wanted this ornament to represent Bonnie, and my previous ideas have really not panned out the way she deserves. So I had in my refrigerator the bottle of champagne that she brought the first time she came to visit me at my apartment in New Jersey. I thought it very appropriate that a year and a day later, that champagne was finally consumed at Polina's New Year's Day party.
When I opened the bottle, I did so with extra care, thinking back on all the wonderful memories of early 2010 when I was falling for Bonnie, and somehow the bottle itself seemed to take on a great deal of meaning. After all, other than her extraordinary birthday gift, a hand-illustrated scrapbook of our time together, it's one of the very few tangible things I have that she's given me.
So it occurred to me that I should make the Christmas ornament out of the parts of the bottle itself, namely the cork, foil wrapper and wire basket. And since my tree is predominantly decorated with angels, why not make an angel? Most of my angels come from the Metropolitan Museum's collection, which I buy every year, but there's also the handmade paper angel made in Buenos Aires that Polina picked out in 2008 while we were shopping at the Holiday Market in Union Square. That was the year before she went to Argentina, of course.
To make my 2010 angel, first I fashioned the halo by cutting and twisting the wire that holds the cork on the bottle. Then I cut out the wings from the foil wrap around the bottleneck using the pinking shears I got for scrapbooking to simulate feathers. I used leftover strips of the foil to gild the halo to match the gold color of the wings. I also glued the wine label to the back of the wings, so I'll remember the vintage.
I borrowed the tiny Santa hat and a golden hanging thread from the penguin ornament I bought to complete the ornament, and assembled the whole thing with a single pushpin. Here's what it looks like: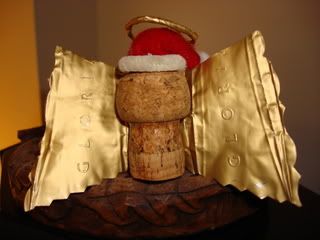 What I like about this ornament is that it reflects the creativity and effort that she put into the scrapbook she gave me, still the most overwhelming birthday gift I've ever received, or am likely to receive.
And that's the great thing about the way I love someone - even if they are not around, I can still be inspired by my feelings for them. The holidays, gift-giving, the people I love - they inspire some of my best creative work.
I think about the handmade book of marriage vows I gave to my ex as a wedding present - bound with a leather spine, gold leaf lettering and hand-marbled endpapers, and die cut pages that revealed a golden wax seal of a cherub inside. That book took almost a year of planning (which is how long we were engaged), buying materials, finding the right bookbindery and die cutter, designing the pages with artwork, finding the right handmade paper, etc. etc.
I think of the puppet videos I used to make for Christmas with my stuffed animals hosting their own movie awards shows, interspersed with clips of some of my favorite movie lines. A Christmas video I made on my old iMac of one of M's first Christmases. More recently, I think of music mixes I've made for Tara, Bee, Polina, Linda and Lori, and the associated designs that went into their packaging. I'm no artist, but I am a creative person that just needs an excuse to flex those muscles.
I do miss Bonnie. I think about her a lot, obviously. I miss the days when we texted back and forth every day, when she would distract me at work, when we couldn't imagine our lives without each other. I miss showering her with affection, and being so close that molecules of air would bounce off her, getting caught in my hair to be carried away when we part ... and invisible moisture that escapes with her exhaling breaths would splash on my skin like a million microscopic kisses.
I know that we'll never share those feelings again, but goddess, it was fun while it lasted. And that - more than anything - is what I want to honor and remember with this 2010 Christmas ornament.