It was a wonderful Samhain for Tara and I, and we did a little of everything. We woke up together and had our breakfast together, to the strains of Vivaldi's The Four Seasons. Then we drove into the city where I surprised her with a tour of
Acquavella Galleries
, which had a special exhibit of Pablo Picasso's Marie Therese, a series of colorful and erotic paintings inspired by the painter's chance encounter with 17-year-old Marie-Therese Walter. The artist, then a 45-year-old father, was instantly enthralled by the young, voluptuous blonde girl, and for the next nine years, she was to be the artist's greatest love and inspiration.
After the quick tour, we went back to the car and got our baseball gloves and played catch in Central Park. Then we walked a few blocks to Papaya King for some of their famous hot dogs. Kids were trick-or-treating at the stand, and instead of hot dogs, they were giving out small, unripe oranges (much to the chagrin of the kids, if not their parents).
We came back to the Met and found it blissfully uncrowded, and it was pure heaven to walk through some of the galleries all by ourselves without the usual weekends crowds. Tara took lots of pictures, including this one of me in one empty gallery: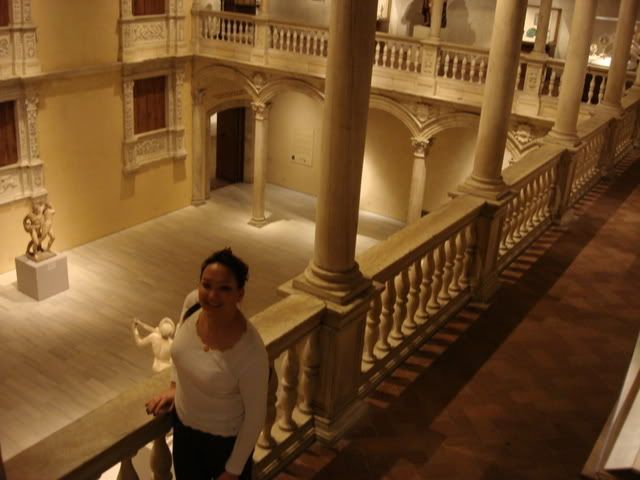 We finished at the Temple of Dendur, which looks spectacular in the dark and mysterious when it's empty of crowds. Then I dropped her off at home and finished my basketball game, a second win in a row for the Rockets, a good start to the season.