I've been battling a sinus infection the last couple of days which has really spoiled my Labor Day weekend. I started to feel it on Friday when Kacey and I visited Papacookie for the last time together. It was three years, four months and five days prior on Easter Sunday in 2011 when we first met there, so it was fitting that my final visit to this seminal space should be in her company.
Jonathan is moving out within the week and he is giving away a lot of the extra stuff that has accumulated over the many decades his family has lived there. As I've said to Jonathan before, I find Papacookie endlessly fascinating because everything is so old and vintage, and very few of my belongings have been in my possession for more than a few years (because of the two fires in 2005 and 2007) and my distance from my birth family. Probably the oldest possession (other than photos in storage) I have is my friend Snoopy on the couch, who just turned 20 this past Valentine's Day. I also have a Raymond Weil wristwatch that is probably about as old as Yoshi (and probably similar in value by now), both about 15 years old.
Earlier in the day, Kacey and I had a late lunch at our hidden Shanghai restaurant in Chinatown for soup dumplings and then went shopping. I found a huge 8.5 liter tea kettle at a restaurant supply store and Kacey showed me her new time lapse video app. After dropping things off at TSMC we met up with Becker at Papacookie and then we went to Battery Park City to see
Sin City: A Dame to Kill For
.
But going back to last weekend, I had a nice visit with Puck in Boston. We visited the Museum of Science, which had a pretty amazing Lighting Show using a giant Van Der Graff generator.
We had an early dinner in the North End at a restaurant called
The Daily Catch
, which was featured in Bizarre Foods with Andrew Zimmerman, that serves Sicilian-style seafood caught within the past 24 hours. The menu is entirely written on a chalkboard that is updated daily. And the kitchen is smack-dab in the middle of the restaurant that only holds about 20 people.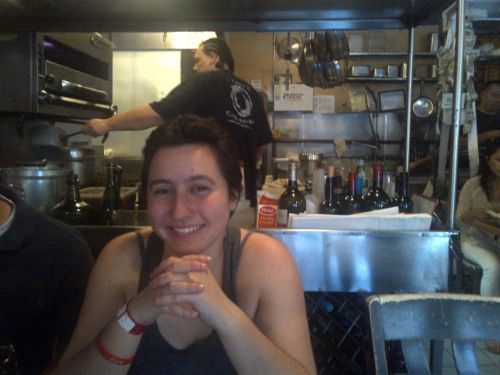 I had these enormous cherrystone clams on the half shell, and a Clams Casino, plus a squid-ink pasta with anchovy butter, onions and peppers. Everything was tasty and wonderful, in that rustic homemade way when you're visiting a friend's house for dinner.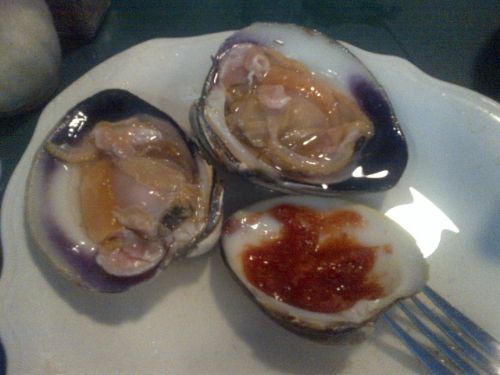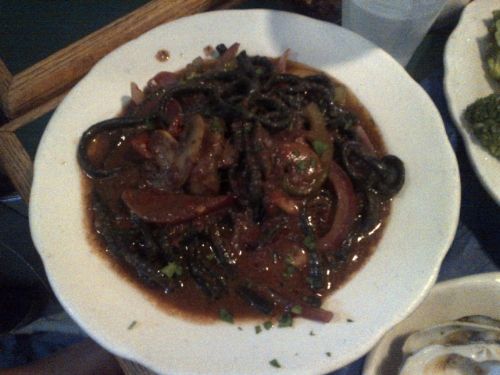 After the museum closed, we walked around the riverside park near the St. Charles River while enjoying some pastries we bought at
Modern Pastry
. As nighttime fell, we went back to the museum to visit the Hayden Planetarium and watch Laser Floyd, a laser show to the soundtrack of Pink Floyd's album "The Dark Side of the Moon."
Sunday we visited the Museum of Fine Arts, and their wonderful collection that included a magnificent J.M.W. Turner called
The Slave Ship
. There were also gorgeous frescoes by my favorite American impressionist, John Singer Sargent, and a nice collection of modern art as well.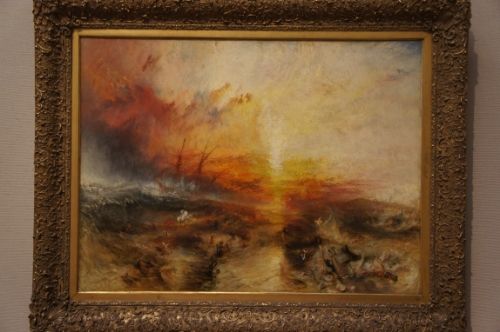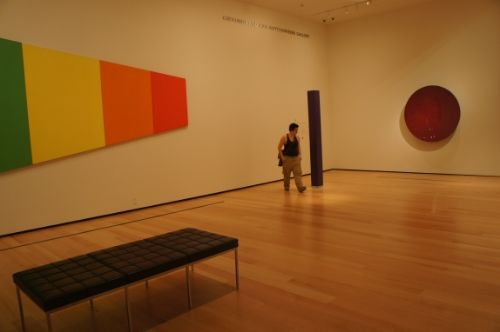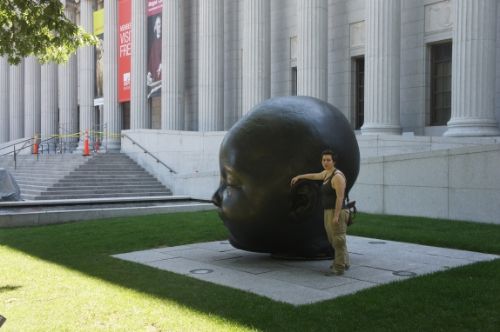 We had dinner at Legal Sea Foods, where Puck had their first
Bananas Foster
, a classic Creole dessert of bananas f
lambéd
with brown sugar, rum and banana liqueur and served over vanilla ice cream. This was hardly the best version I've had, but the ice cream. at least, was excellent.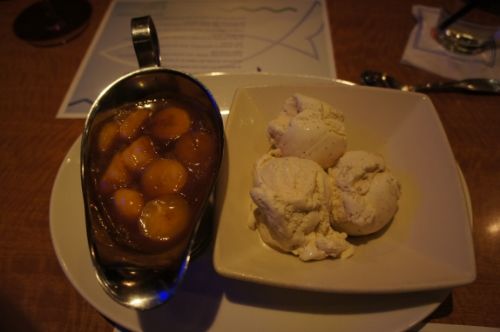 Afterward, we went to the Skywalk of the Prudential Tower and took in the views of the city. We came back early and watched
The Adjustment Bureau
at the Magic Treehouse before turning in.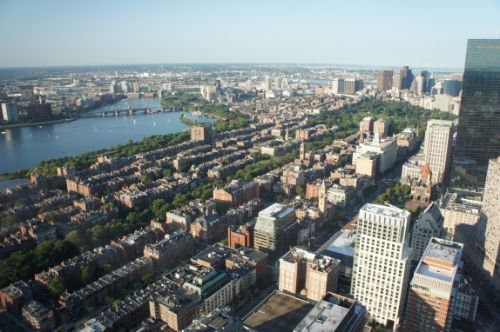 Monday I came back home and in the evening Lourdes came over for dinner of scallion pancakes and dumplings and to watch Robin Williams in
Dead Poets Society
- a good choice for her since she's a teacher and has never seen it.
Tuesday I took a trip up to the Bronx to visit Sylwia near her workplace and we had lunch at a Salvadorian cafe nearby. She met up with me later at TSMC and we went to the Open Love NY meeting together. I led a discussion with about 40 attendees about Poly 201 skills, or what I called 3 C's and an H - communication, consent, commitment and honesty. We went to the Theater Row Diner afterward as usual, and I had a nice catch-up with Katie M.
Wednesday Lori and I had an adventure in upstate New York. We packed a picnic and drove through Harriman State Park to find a picnic spot near a lake.
We drove to Woodbury Commons outlet mall and spent a few hours shopping. I found a few nice deals at the Tommy Hilfiger, Banana Republic and Ann Taylor Loft stores. We even bought some macarons (dairy-free for Lori) and drove to nearby Bear Mountain to enjoy them along with the view.
We walked around Perkins Memorial Tower and found a group of juvenile deer along the road, who let us get very close to photograph them.
We also watched a lightning storm roll in over the Bear Mountain Bridge until it got too close for comfort. We were standing on a mountain, after all.
We drove down Bear Mountain and visited
Palisades Center
, Lori's first visit to this gigantic mall. There's a five-story high rope course that was pretty awe-inspiring, and we did some more shopping before having a late supper as the stores closed. I managed to drop Lori off in Elmhurst and return the Zipcar with less than 10 miles and 30 minutes before my reservation limits.
Thursday I brought a couple of dresses to Nordstrom Rack to be altered and then Natalia came over in the evening to watch
Dragon: The Bruce Lee Story
. And then Friday was my day with Kacey and Becker. As far as staycations go, it's been a pretty busy one.